Tooling design is a decisive stage for mass production.
A workshop dedicated to modelling and tool production
To ensure the success of industrial projects, Ouest Composites Industries supports the projects from start to finish, including tool production. As soon as the project is launched, a multidisciplinary team is set up in order to integrate all the parameters to achieve the QCD objectives of the project.
Tooling design is a decisive stage for mass production.
Ouest Composites Industries designs and produces all the necessary tools for the production of parts (models, moulds, positioning or glue up jigs, etc.)
Thanks to modern tools, we are able to design the entire project in 3D and carry out the modelling process by numerical control. Our 5 axis digital machining centre enables us to produce moulds or single pass models up to 9m x 4m x 2m. This high capacity tool offers infinite possibilities for tool production.
Controlling tool design and production is a key to success for industrial projects.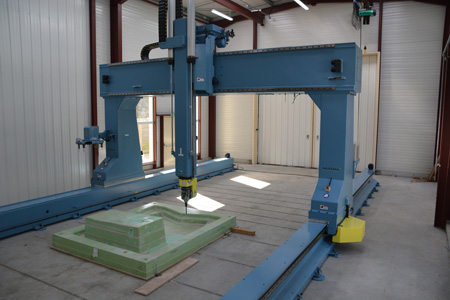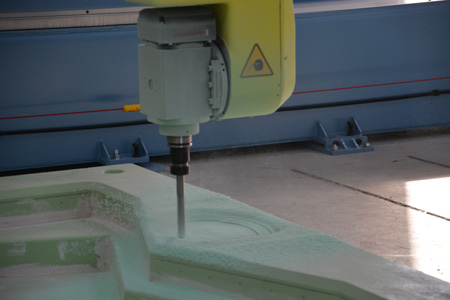 Une solution pour chaque besoin
En fonction des besoins du projet, Ouest Composites Industries propose deux types d'outillages:
Des outillages prototypes: ils permettent de réaliser les premières pièces d'un projet tout en autorisant des modifications. Ce type d'outillage est souvent privilégié pour des projets demandant une phase de mise au point ou lorsque le lancement série est lié à un test marché préalable.
Des outillages série: basés sur la réalisation d'un modèle puis d'un moule série, ils permettent de réaliser un nombre important de pièce en vue d'une production en série dans la durée.
Les + de Ouest Composites Industries
Ouest Composites Industries dispose de tous les moyens nécessaires à la réalisation des outillages (modelage, réalisation des moules, gabarits, …) grâce à une chaîne numérique complète.
CAO / CFAO
2 centres d'usinage numérique 5 axes
Un bras de mesure tri dimensionnel
Capacité à réaliser des outillages de grande taille
Ouest Composites dispose d'un centre d'usinage numérique 5 axes permettant de réaliser des moules ou des modèles en une seule passe jusqu'à 9m x 4m x 2m. En combinant les séquences d'usinage, il est même possible d'atteindre une longueur totale de 18m en une seule pièce.